L'amore più bello è quello che risveglia l'anima e che ci fa desiderare di arrivare più in alto, è quello che incendia il nostro cuore e che porta la pace nella nostra mente.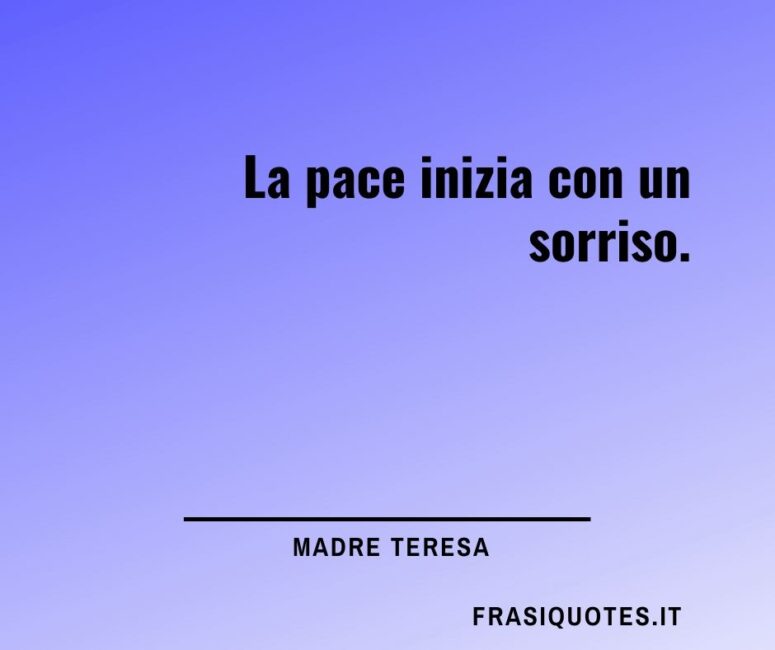 La pace inizia con un sorriso.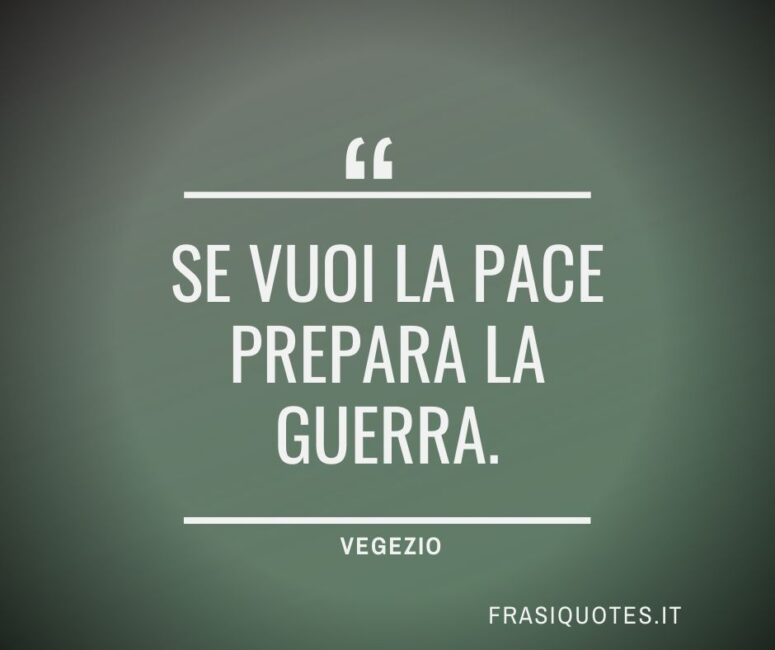 Se vuoi la pace prepara la guerra.
Successo? Non so cosa significhi quella parola. Sono felice. Ma il successo, questo risale a ciò che agli occhi di qualcuno significa successo. Per me il successo è pace interiore. Questa è una buona giornata per me. (Success? I don't know what that word means. I'm happy. But success, that goes back to what in somebody's eyes success means. For me, success is inner peace. That's a good day for me.)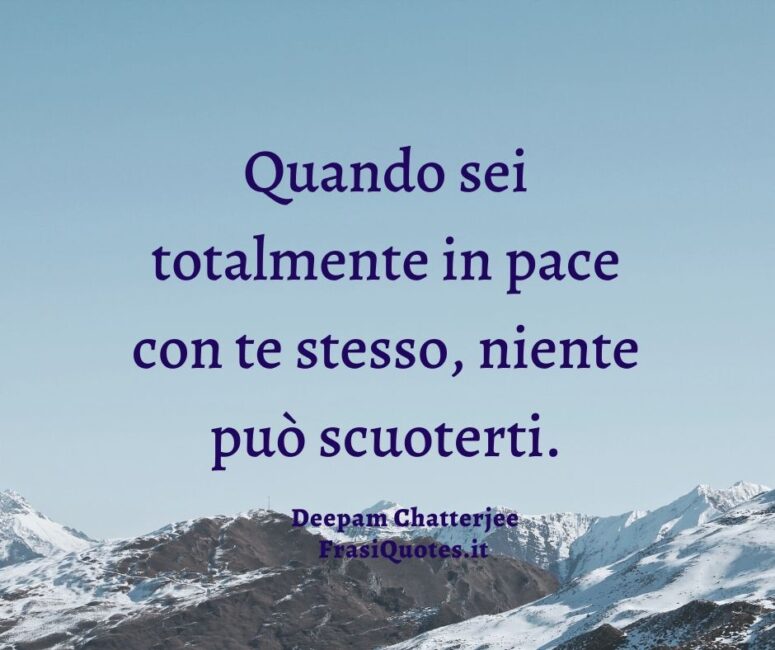 Quando sei totalmente in pace con te stesso, niente può scuoterti. (When you are totally at peace with yourself, nothing can shake you.)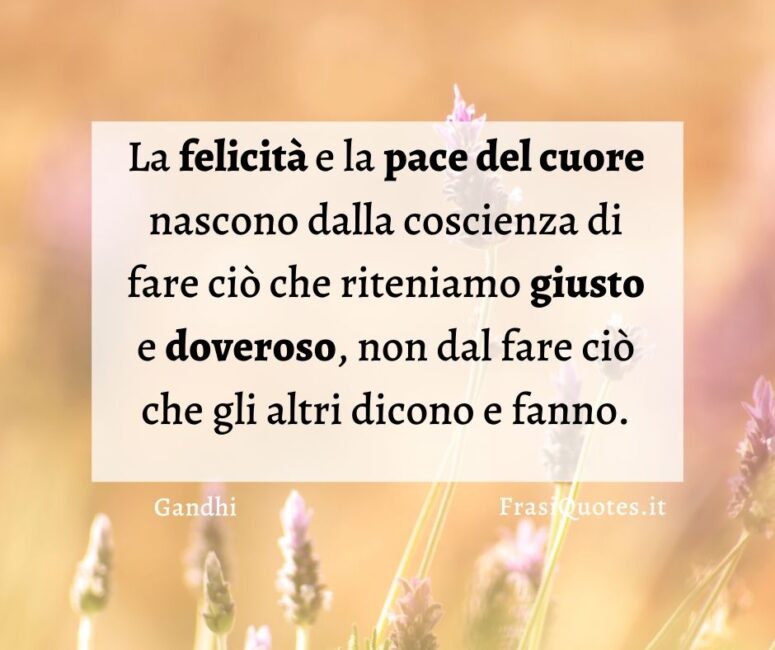 La felicità e la pace del cuore nascono dalla coscienza di fare ciò che riteniamo giusto e doveroso, non dal fare ciò che gli altri dicono e fanno.
Non possiamo mai ottenere la pace nel mondo finché non facciamo la pace con noi stessi.
"Madre, cosa posso fare per la pace nel mondo?" "Torna a casa e ama la tua famiglia." (Madre Teresa di Calcutta) – Frasi Madre Teresa di Calcutta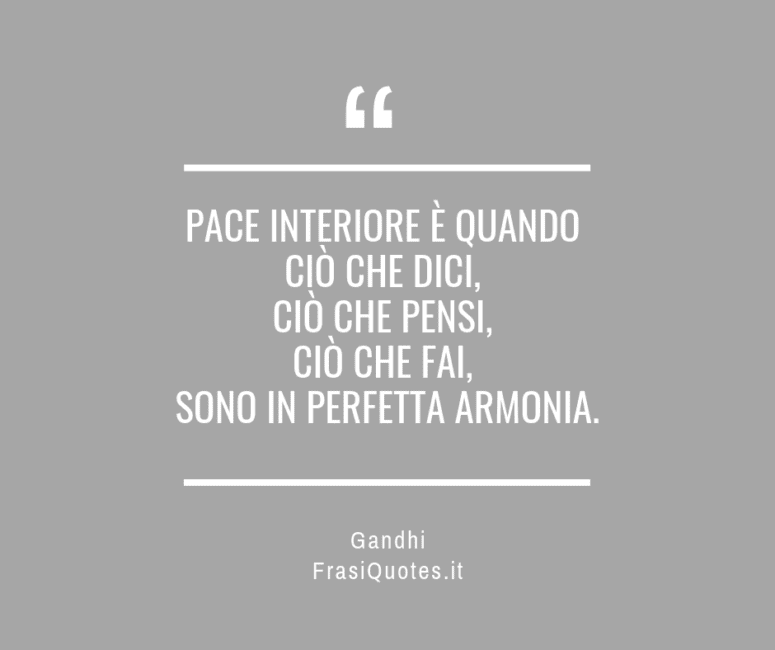 Pace interiore è quando ciò che dici, ciò che pensi, ciò che fai, sono in perfetta armonia. (Gandhi)
Un uomo andò da suo padre e gli disse: "Padre, non sopporto più mia moglie, voglio ucciderla, ma ho paura che venga scoperto.Mi puoi aiutare?"Il padre rispose: "Sì, posso, ma c'è un problema … Devi fare in modo che nessuno sospetti che sia stato tu quando lei morirà.Dovrai prenderti cura di lei, essere gentile, grato, paziente, amorevole, meno egoista, ascoltare di più…Vedi questo veleno qui?Ogni giorno ne metterai un po' nel cibo. Così, lei morirà lentamente."Dopo qualche giorno, il figlio torna dal padre e dice: "non voglio più che mia moglie muoia!Mi sono reso conto che la amo. E adesso? Come faccio dato che l'ho avvelenata in questi giorni?"Il padre gli risponde: "Non ti preoccupare! Quello che ti ho dato era polvere di riso. Non morirà, perché il veleno era dentro di te!"Quando nutrite rancori morite lentamente. Impariamo prima a fare la pace con noi stessi e solo dopo saremo in grado di farla con gli altri. Trattiamo gli altri come vorremmo essere trattati noi.Prendiamo noi l'iniziativa di amare, di dare, di aiutare… e smettiamola di pretendere di essere serviti, di approfittare e sfruttare gli altri.Che l'amore di Dio ci raggiunga ogni giorno perché non sappiamo se avremo tempo per200